Apple today released the first software update to its new iOS 11 operating system, iOS 11.0.1. The update iOS comes just a week after Apple releases iOS 11 to the public. To download the update, navigate to Settings - General - Software Update (User may need delete beta profiles in order to install the update).
Today's release notes highlight "bug fixes and improvements for your iPhone or iPad." It should be addresses several minor bugs that have been discovered following the release of the iOS 11 golden master. As for build number, it comes in at 15A402 (or 15A403).
As a update that mainly focus on bug fix and performance improvements, but according to Twitter user Filipe, iOS 11.0.1 mainly focus on Camera and Photos app. There's also some improvements for iMessage App Explorer and Springboard, otherwise, we don't expect any feature changes in this release.
While according to data collected by analytics company
Mixpanel
. one week after being released to the public, iOS 11 is installed on 25.28 percent of iOS devices. With iOS 11 adoption growing, iOS 10 is now installed on 67.83 percent of devices, while 6.89 percent of devices continue to run an earlier version of iOS.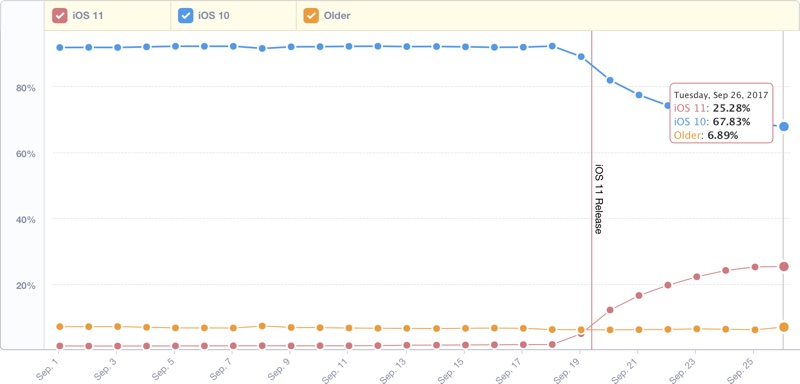 The iOS 11 is a major update for both the iPhone and iPad. It Introduced a redesigned Lock screen experience, a completely new customizable Control Center, few revamped app icons, a redesigned App Store, and an overhauled interface for the iPad.