According to
new data
shared today by Yahoo-owned mobile analytics firm Flurry, Apple continued to tops with new device activations during the week leading up to Christmas Day. Both iPhones and iPads made up 44% of devices measured by Flurry from December 19 to December 25 with second seen as Samsung accounted for 26 percent of activations.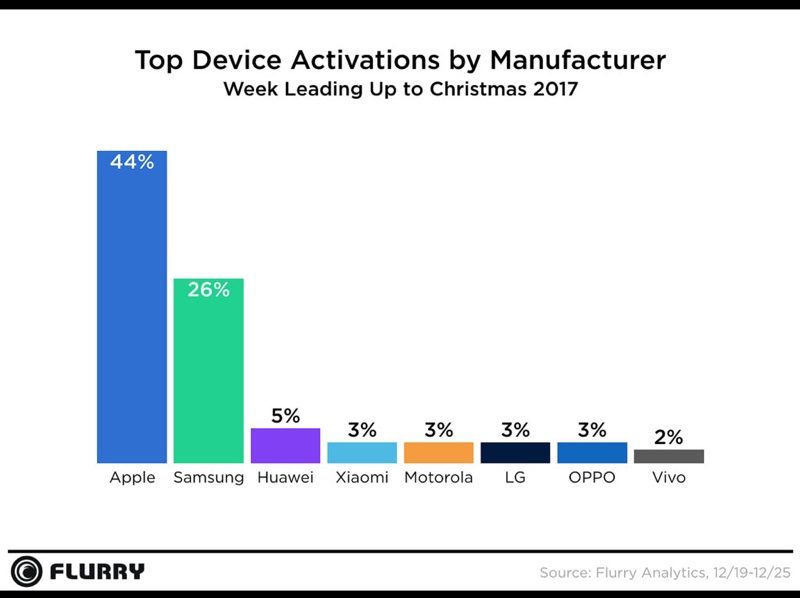 While Huawei, Xiaomi, Motorola, LG, OPPO, and Vivo trailed behind Apple and Samsung with each responsible for 2 to 5 percent of new device activations. More interestingly, Apple also saw the highest number of device activations - 44 percent - during the same time period last year, followed by Samsung at 21 percent.
Similar to last year, 44% of new phone and tablet activations were Apple devices. While Samsung dominates global market share, they fell short as the gift of choice during the holiday season, with only 26% of activated devices in the lead up to Christmas. Samsung's activation rate is up 5% from the 2016 holiday season, which can likely be attributed to the 2017 introduction of the Galaxy S8 after the late 2016 recall of their malfunctioning Note devices.
Apple's older devices saw the highest number of new activations rather than the newer devices. The year-old iPhone 7 accounted for the most activations at 15.1%, followed by the iPhone 6 at 14.9% and brand new iPhone X at 14.7%. The new iPhone 8 as well iPhone 8 Plus models beat out by the iPhone 6s and iPhone 7 Plus with an appropriate 8.1% and 8.7% of activations.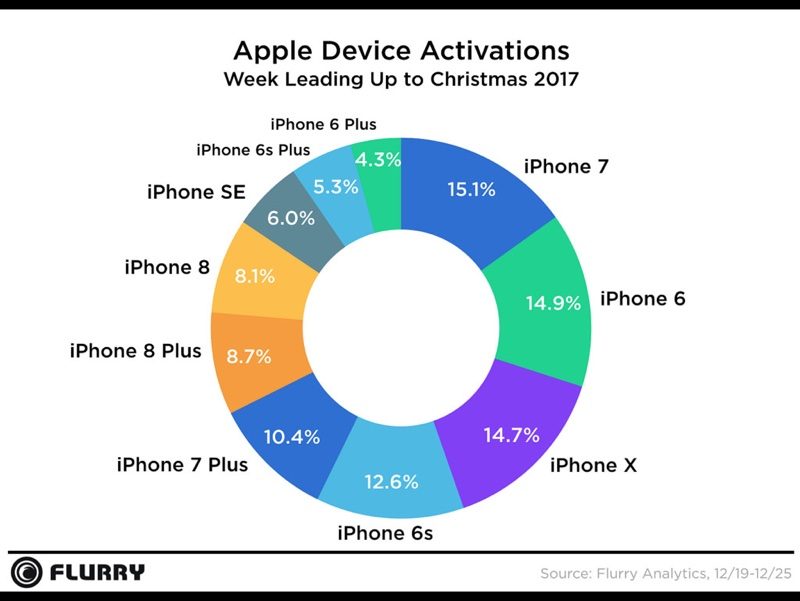 To gather its data, Flurry measured smart device activations and app downloads from the more than one million mobile apps that use the Flurry Analytics service. Flurry says it has insight into more than 2.1 billion devices around the world.