Today, we are announcing a new change to our website today: TANT, which stands for Top Apple News Today, a column provides a brief recap on today's top Apple News. The new section will be showed on Monday through Friday.
Apple Share Two New Ads Encouraging Android User Switch To iOS
: Apple today has released two new ads on its Youtube that trying to switch android users to its mobile platform. The first ad focus on App Store to demonstrate the superior safety, while the second one highlights Portrait Mode & Portrait Lighting on the iPhone 8 Plus and the iPhone X. Links to watch:
App Store
and
Portraits
.
Survey Results Shows iPhone X Received 97% of Customer Satisfaction: A survey for U.S. early iPhone X adopters conducted by market research firm Creative Strategies found that the smartphone's user satisfaction was as high as 97%.
Broken down, 85% of respondents are "very satisfied" with iPhone X. In the meantime, 12% of respondents stated that they were "satisfied" with iPhone X, and only 3% of users were unsatisfied with all sorts different reasons. On a feature-by-feature basis, the iPhone X saw very high satisfaction rates in all but one area, that is Siri with 20% of satisfaction.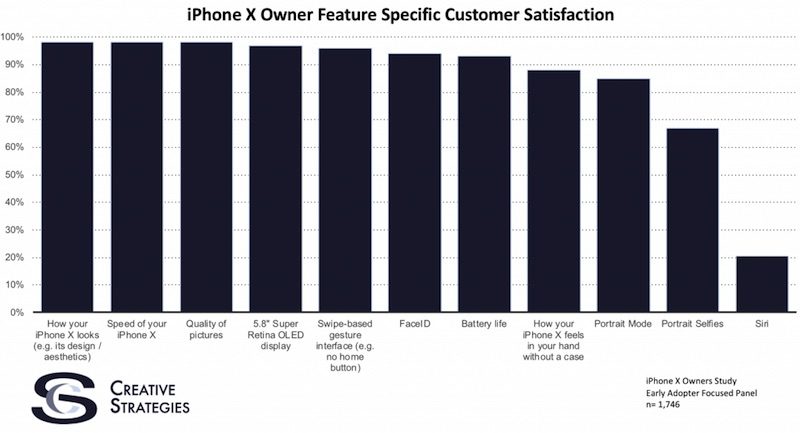 Apple's iPhone 8 And 8 Plus Models Sells Better Than iPhone X
: CIRP's latest report shows iPhone 8 and 8 Plus leading the way with growth from holiday quarter into Q1 2018, while iPhone X is seeing a decline for unknown reasons.
CIRP found that iPhone 8 sales in the first quarter accounted for 23% of the total iPhone sales, iPhone 8 Plus was 21%, and iPhone X only accounted for 16%. Combine together; that put the iPhone 8 models at 44%, almost three time better than iPhone X sales were.

Other news are including World's last Apple Watch shop at Isetan Shinjuku, Japan, to be closed on May 13th, European Commersions concerned Apple's Shazam Acquisition could allow them to encourage EU users to Apple Music.