We're only a few days from Apple's big fall iPhone event, but the big news is the leaked iOS 11 GM firmware that
9to5Mac
received last evening. The iOS 11 GM firmware, which should be pushed next week, leaked a handful of details about the upcoming LTE Apple Watch and iPhone 8, it also hints that Apple will be adding new wallpapers in iOS 11, as well as to update AirPods in the fall iPhone event. Let's break apart to take a look at!
First off, in the Watch app, there's an image of third-generation Apple Watch with a cellular connection. The device has the same factor design as the current Apple Watch, featuring a Space Gray body and matching band, but it appears to have a bright red Digital Crown. It also seems Apple Watch Series 3 will come in a new 'blush gold' color for the aluminium Sport watches and a new gray ceramic material for the Apple Watch Edition.


The code in the update also suggests the Apple Watch will be able to make calls vi LTE, sharing a phone number with the iPhone. The Apple Watch will be added to an existing phone plan, and there are hints that carriers will offer free/
cheaper trial plans
. In addition, Apple Watch's Control Center also appeared to have a cellular data toggle, signal strength indicator and the new "iPhone 8" icon.
Of course, the leaks must be mixed with some "iPhone 8" information, in the iOS 11 GM version, a new feature was found, it's called "Portrait Lighting." This functionality looks like an additional feature to the Portrait Mode. It can support Contour Light, Natural Light, Stage Light, Stage Light Mono, and Studio Light. It's possible this Portrait mode enhancement could be related to the flash when shooting.
In addition, the new leak also includes a new video recording resolution and shooting speed:
1080p HD at 240 fps 480 MB with 1080p HD at 240 fps
4K at 24 fps (Footer) 270 MB with 4K at 24 fps (film style) (HEVC Footer) 135 MB with 4K at 24 fps (film style)
4K at 60 fps (Footer) 450 MB with 4K at 60 fps (higher resolution, smoother) (HEVC Footer) 400 MB with 4K at 60 fps (higher resolution, smoother)
9to5Mac
also see evidence that OLED iPhone will be featured with True Tone Display to achieve white balance, similar to the new iPad Pro models. As for the new resolution, it's believed we'll see 1125×2436 based on this firmware. There are images that feature the design of the iPhone 8 with slim bezels and a notch at the top of the device for the camera.
Two screenshots buried within the update give us a look at the new navigation bar on the iPhone 8, which will replace the Home button with a set of gestures. Pulling upwards on the bar brings up the Home screen and a longer pull brings up the App Switcher. There are also hints that the elongated sleep/sleep wake button (now called side button) will activate Siri and bring up Apple Pay cards and passes.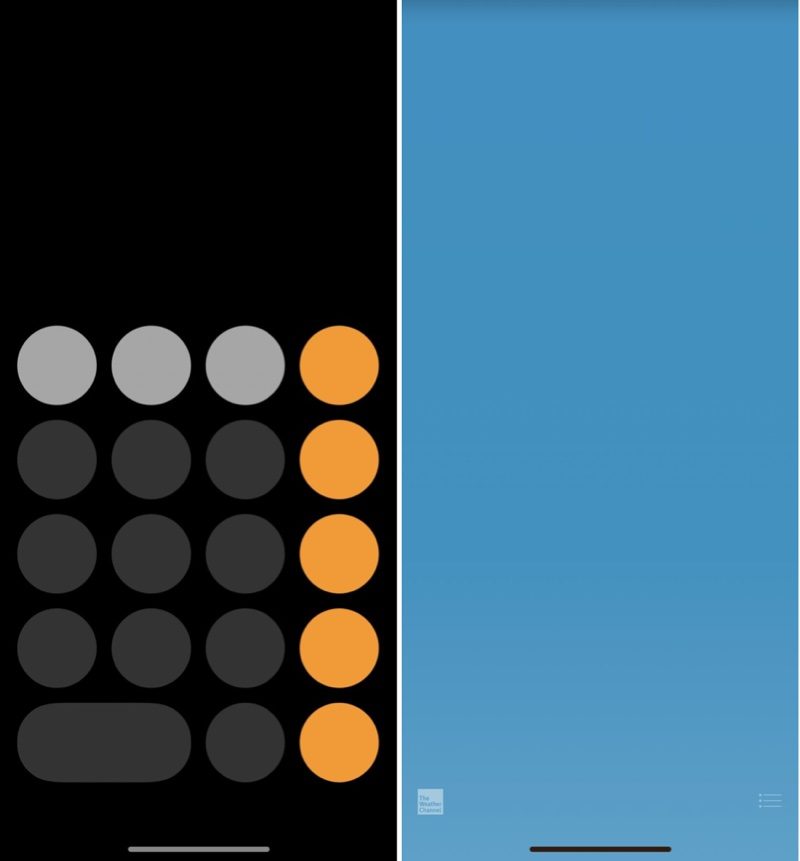 In addition, Face ID seems to be the "Pearl ID" official marketing name, it will replace the Touch ID fingerprint recognition. As a new generation of identity recognition system that eventually replaces the Touch ID, the Face ID setting should make the user look familiar, at least similar to the style how the Touch ID is set up. After further mining,
9to5Mac
found the specific steps to set up Face ID.
New OLED iPhone features a near bezel-less display with a cutout notch for the front camera, earpiece, and sensors. Now, Guilherme Rambo has found exactly how that will work. The left side of the status bar will feature the clock time, while the right side primary displaying WiFi, cellular signal strength, and battery life.
Lastly, in the iOS 11 GM version,
contains
a lot of colorful retro style wallpaper, as well as for OLED screen prepared pure black wallpaper. On the iPhone 7 Plus, there are 17 new wallpapers. Including seven retro style wallpaper, six flowers wallpaper, three space wallpaper and a pure black wallpaper.