According to a report by
CIRP
, the iPhone 8 Series accounted for 16 percent of total iPhone sales in the July-September 2017 quarter, meaning it "look much more like an 'S' model" in terms of sales. More surprisingly, The smartphones actually represented a smaller sales percentage than 'S' devices have in past years, particularly in comparison of iPhone 6s with 24 percent of iPhone sales in 2015.
In terms of each model, iPhone 8 had 6 percent of iPhone sales and the iPhone 8 Plus had 10 percent in the fiscal quarter ending October 1, 2017. While the smartphones' small share makes sense, because of they were only available for about a week (shipping September 22) in the quarter that CIRP analyzed, previous generation iPhones were notably higher at the same points over the past few years.

"iPhone 8 and 8 Plus accounted for only 16% of total sales, compared to a 24% share for the iPhone 6S and 6S Plus two years ago," said Josh Lowitz, CIRP Partner and Co-Founder. "While it's a little early to know, it appears that this even lower share relative to that earlier 'S' model probably resulted from some buyers delaying a purchase, we think in anticipation of the new iPhone X."

So, in terms of consumer demand and reception, the 8 and 8 Plus have a share of total sales that makes them look much more like an 'S' model, while the 7 and 7 Plus was closer to the very well-received 6 and 6 Plus. This is not surprising, as the form factor remained the same, and the improvements in features were incremental and internal."
The iPhone 7 and iPhone 7 Plus accounted for 43 percent of sales during this period in 2016, while the iPhone 6s and iPhone 6s Plus had 24 percent of the iPhone sales in this period two years ago. In 2014, the iPhone 6 and iPhone 6 Plus represented 46 percent of iPhone sales in their launch quarter.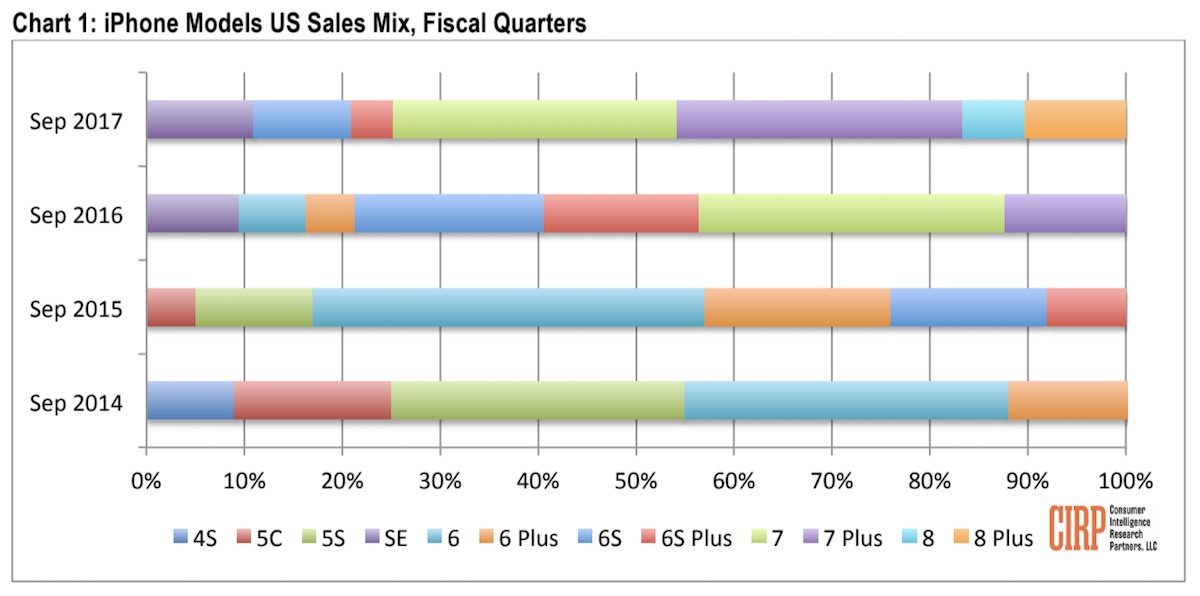 The numbers suggest that at least some of those who would otherwise have bought the iPhone 8 have instead gone for last year's model following the price cut made by Apple. Others, it says, are waiting for the iPhone X. It's worth to noting that The new report is based on a survey of 500 Apple customers who made a purchase between July and September of this year.