Image via Apple
This year's WWDC 19 Keynote is a blast of awesome features, including the iOS 13, macOS Catalina and watchOS 6 versions. We also have seen the stainless steel Mac Pro come back with over 24 cores. Let's sum it up on what we saw on Monday's Keynote.
iOS 13
First off, we have seen that iOS 13 packs lots of features we've been longing for in the past year. This includes Dark Mode, new Camera, and Photos features, Maps improvements and many more. Dark Mode is a feature that makes your iPhone screen shift to darker hues of black, grey and other colors. This feature makes your iPhone screen easier on the eyes during the night. You can turn on Dark Mode by scheduling it like Do Not Disturb, at sunset or manually via Settings or Control Center.
Next, the Maps app in iOS 13 consist of a redefined experience from improved pedestrian data, broader road support, more concise addresses, and detailed landcover. Apple has been remaking Apple Maps thanks to their vehicles driving 4 million miles since last year. The new version of Apple Maps will roll out in select major cities, counties, and states right now. Apple will then be rolling the entirety of the USA in the upgraded maps by the end of this year, and to other countries by 2020.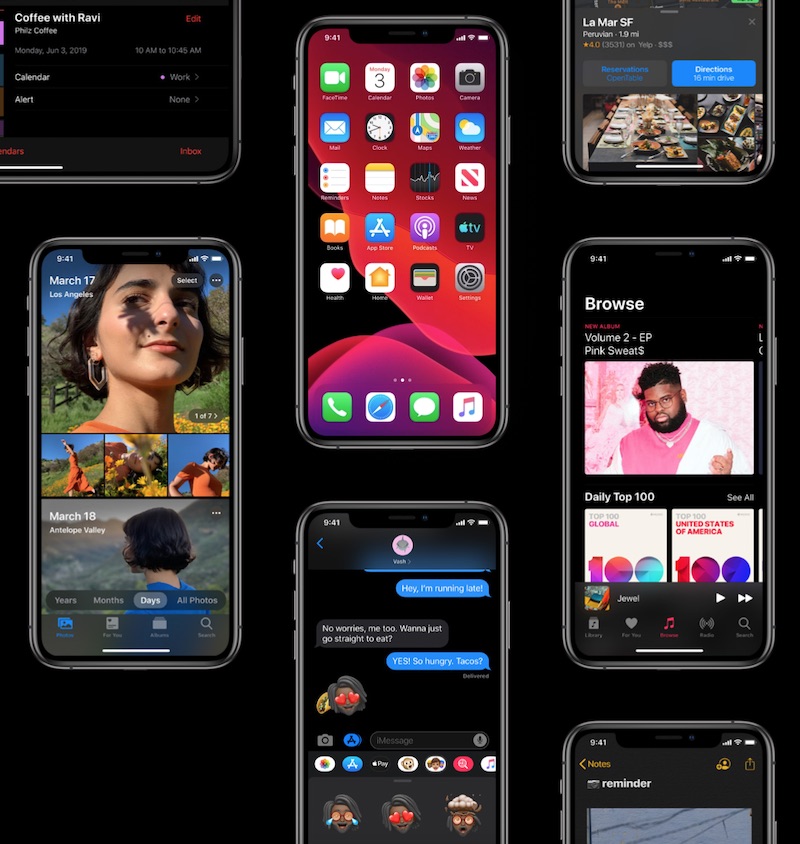 Apple is also trying to compete with Google's Street View feature, which is the Look Around feature. It consists of street-level imagery with smoother, seamless transitions. In addition, Apple added quite a bit more to the Maps app amongst its last major improvement in iOS 10. All of your favorite restaurants, places, and destinations are in Collections to easily share with your friends and family. There is still the favorites section for all of your frequent locations such as your work, school, gym, and home destinations. Everything you need to get anywhere is in your fingertips, on your iPhone!
Moving on to the Photos and Camera apps, there have been minor updates to each of these apps. Organization on the Photos app has been far improved thanks to its machine learning capabilities of hiding away unnecessary pictures and significant events from past years, months or days. All of your photos and videos are intelligently organized so you can easily browse discover and remember all of your memories. Editing tools now get more comprehensive tools, with the ability to edit videos. You can even rotate a video and add filters to it as well!
Not only the Photos app has great organizational features, but the Camera app gets more intuitive than ever. Portrait Lighting gets its own beautification features from sharpening eyes and smooth facial features. In other words, you can adjust the intensity of the light to create a subtle, refined portrait. There are many new lightning effects, which includes High-Key Mono to add monochromatic effects on Portrait Mode pictures.
Privacy is also a big deal when it comes to your iPhone. Sign In with Apple eliminates the hassle of signing in to apps and select websites and lets you sign in with only your Apple ID. This also eliminates the transfer of information by providing developers with a unique, generated ID. Users also get an ability to keep their email address private and share a unique, random email address to the company instead, which protects every user's privacy and sensitive information. Sign in with Apple works with Apple IDs that have Touch ID or Face ID authentication and two-factor authentication enabled for an extra level of security.
Lastly, here are the minor changes Apple introduced in iOS 13. The Reminders app gets a major redesign with more intelligent ways to add, edit and organize your reminders. There's also a quick toolbar to add times, dates and many other data to each reminder. Messages also get a ramp-up on Memoji and Animoji to allow better identification of others you message with. It also gets more expressive with new hairstyles, headwear, makeup, and facial features, plus the sticker packs to use it on your favorite apps other than Messages. On the other hand, Siri and QuickType get some improvements, which consist of a more natural Siri voice, improved Siri Shortcuts and a swipe keyboard named QuickPath. AirPods now have an ability to share audio from one iPhone to another AirPods user, along with Sirikit. iOS 13 will be available for iPhone SE and later and iPod touch 6th and 7th generation.
iPadOS
Alright, now we're done reading about iOS 13. But why did Apple separate the iPad features from iOS 13? They created another great operating system designed to make your iPad like a computer, which is named iPadOS. iPadOS is built from the foundation of iOS 13, but it is made for the iPad.
iPadOS comes with many features that you can count on, including the iOS 13 features. There's an ability to work on the same app but with multiple areas in it, Exposé, widgets on the home screen, Apple Pencil tricks and text editing. Exposé allows seamless multitasking between apps on the iPad by tapping an icon. On the other hand, pinning widgets add more information to your iPad's home screen, along with Dark Mode to help you work on your iPad throughout the night.
Typing and editing text on your iPad is much easier, with 3 additional gestures to copy, paste and cut text. You can hold on a paragraph or a sentence with three fingers to copy, then paste it by spreading 3 fingers. Accidentally pasted in the wrong area? Swipe with three fingers to the left. It is also easy to select a part of the text by swiping your finger all over it, tapping it twice for a word, 3 times for a sentence and tapping it 4 times for a paragraph. The floating QuickType keyboard makes it easier to type for a certain app, especially when you have to do lots of work on your iPad. You can even use QuickPath to swipe up some words!
The Apple Pencil gets lower latency on the iPad nowadays, so you can draw and write like in real paper! The markup tools are now in a movable tray, ready for annotating a paper, email, document or a screenshot. Sidecar with macOS Catalina enables your iPad to work together with your Mac and as an external display. Font installing has also been introduced in iPadOS, which all fonts can be installed via the App Store.
The Files app has been redesigned with several columns and previews to house all of your iPad's files. You can hook up a USB-C drive to an iPad Pro 2018 to transfer files and connect your iPad to your own computer altogether. Your iPad now has a download manager for files from Safari, so you can see what you're downloading and access them easily.
macOS Catalina
Thirdly, the macOS Catalina software eliminates iTunes with three different services. They include Apple Music, TV and Podcasts, all separated from iTunes. macOS now has support for 4K and Dolby Atmos for watching movies on your Mac. You can also use Handoff to pick up where you left off from your movies and podcasts across your iOS and Mac devices. In other words, Sidecar lets you seamlessly use Apple Pencil on iPad to annotate something, work together on Adobe Illustrator or use it as an external display.
The so-called "Marzipan" platform is allowing developers to develop apps derived from iPad to your Mac. On the other hand, the native apps get their own makeovers. Photos, Notes, and Reminders are more organized in sections, categories and more advanced search via machine learning. Safari gets a revamped start page with your history, favorites and shared links from Messages or emails.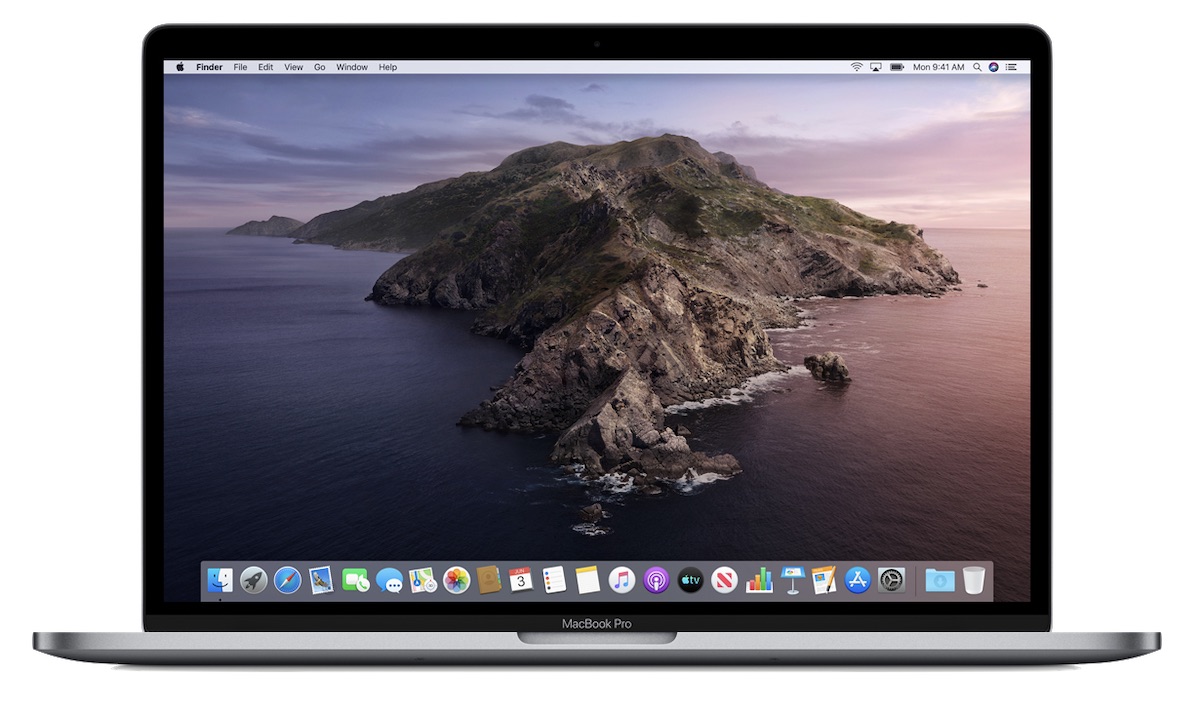 Screen Time, first introduced in iOS 12 last summer, has debuted to the Macs now. You can set limits for apps, downtime and many more, including time limits from using Messages, AirDrop, iMessage, and FaceTime. Need to finish writing an email? You can choose to extend your time limit for one more minute, 15 minutes or nonetheless.
Privacy plays a significant role in macOS Catalina, which is why Apple is implementing privacy practices to macOS day by day. This helps prevent macOS from tampering, gain control on your data, visit secure websites and use secure, safe apps. Find My Mac has another feature that every Mac user needs, which is Activation Lock. macOS Catalina runs in read-only mode to prevent overwriting files, which prevents overloading your hard drive. Now apps will ask for your permission for sharing files, data, and much more stuff. And your Apple Watch can help out with unlocking locked notes, signing into apps and websites and unlock your Mac.
watchOS 6
Last, but not least, watchOS 6 is full of customization, health features and personalization with lots of new Apple Watch faces. The health features have been developing significantly in the past few years, with a few new health apps this year. The Cycle Tracking app allows female Apple Watch wearers to log important information about their menstrual cycles, fertility cycles, health conditions and results from ovulation prediction sets. They also can view the predicted dates of their next period and fertility sessions. On the contrary, there's an app named Noise to measure DB levels from the Apple Watch's microphone. It can also help you determine what you hear is safe and sound. Your Apple Watch can also alert you if noise is too loud, so you won't get hearing loss from listening to loud noises for prolonged periods. These features are also available in the Health app for iPhone in iOS 13.
Activity rings have changed with Trends to display the user's Activity data in graphs. The trends can tell if your above your goal or below it and it depicts of metrics from Move Calories, Stand Hours, Exercise Minutes, Overall Walking Pace and many more. If you don't improve in the last 3 months compared to the last year, then the Activity app will offer coaching and motivation to help you get back on track.
The watchOS 6 version now has an App Store for Apple Watch to install apps without the necessity of the iPhone. You can search for apps by using Scribble, Dictation, and Siri. You can also see previews of the app and install it right on your wrist. In addition, developers can now create Apple Watch-only apps without having the watch depend on the iPhone to install their own app. Many of our most-anticipated native Apple Watch apps have finally made it to the Apple Watch, which includes the Calculator app with tip calculations, Audiobooks to listen to audiobooks from Apple Books, the ability for Siri to do web searches, Voice Memos and expansion of GymKit.
Customizations of the Apple Watch has been significantly improved nowadays, which includes a slew of watch faces and some new watch bands. These watch faces include Modular Compact, Solar Dial, California, Gradient and Numerals. The summer 2019 watch bands are the Pride Sport Loop and sport band colors in Canary Yellow, Dragonfruit and Cornflower. The Pride Apple Watch Sport loop band supports the LGBTQ community including the organizations Encircle, Gender Spectrum, GLSEN, ILGA, PFLAG, The National Center Of Transgender Equality and The Trevor Project.
Mac Pro and Pro Display XDR
Apple's all-new, Modular-designed, and powerful Mac Pro features workstation-class Xeon processors up to 28 cores, a high-performance memory system with a massive 1.5TB capacity, eight PCIe expansion slots and a graphics architecture that packed with the world's most powerful graphics card, without a doubt, this is by far Apple's most powerful Mac yet! While it also introduces Apple Afterburner, a game-changing accelerator card that enables playback of three streams of 8K ProRes RAW video simultaneously.
Meanwhile, Apple's cutting-edge display - Pro Display XDR, sports a massive 32-inch Retina 6K display with gorgeous P3 wide and 10-bit color, an extreme 1,600 nits of peak brightness, an incredible 1,000,000:1 contrast ratio and a superwide viewing angle. The company also compared its pricing against other display on the market, which all are not as promising as Apple has to offer.
Conclusion

Altogether, this is all of the software Apple introduced this summer's WWDC and they added changed the way an iPad, iPhone, Mac, and an Apple Watch user would experience. We were anxiously waiting for Dark Mode to roll out in iOS and we can finally experience it on our iOS devices. The iOS 13, macOS Catalina and watchOS 6 betas are now available to developers to beta test this summer. Public betas for iOS 13 and macOS 10.15 will be available later this month.