Starting in early October, Apple corporate employees in the United States to begin testing Apple Pay Cash feature internally in the iOS 11.1 beta, suggesting the person-to-person Apple Pay feature could be introduced in iOS 11.1 despite its current absence from the iOS 11.1 developer beta.
Began today retail employees will be able to this feature. Retail employees gained access to the feature today and have been asked to install both the iOS 11.1 beta and an additional internal-only beta profile to unlock the Apple Pay Cash feature. Retail employee says Apple is also requiring iCloud accounts to be whitelisted to use Apple Pay Cash.
In today's report, we saw some new screenshots of the Apple Pay Cash setup process, which users need to verify their identity by providing their full name, address, social security number, and date of birth. According to Apple, this information will be verified by an anonymous authentication service.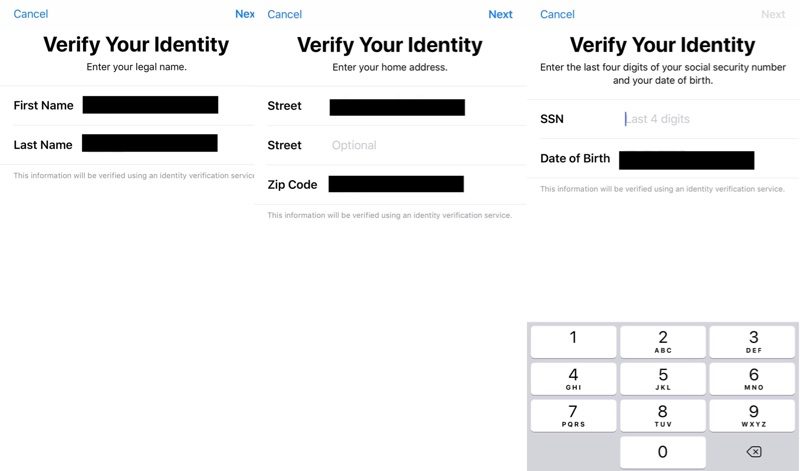 In June of this year, Apple's Worldwide Developer Conference, Apple launched its own "person to person" Apple Pay Cash transfer solution. The service is licensed by Apple Pay and integrated into the iMessages app, where users can send payments to other Apple Pay account holders via a simple text interface.
The money received is converted to an Apple Pay Cash card that can be used to pay for Apple Pay for online or in-store purchases, or to an associated bank account. Both iOS and watchOS support this feature. Apple's version also supports credit and debit cards, but only debit card-based transactions are free, and payments made with credit cards are subject to industry fees of 3%.
Apple Pay Cash is not present in the current iOS 11.1 beta available to developers and public beta testers, but given the expanded internal beta test, it appears Apple is nearly finished with the feature and is gearing up to release it as part of the iOS 11.1 update.
Via
MacRumors
, Image Via
iDownloadBlog
And
MacRumors