According to a report from KGI analyst Ming-Chi Kuo, next year's iPhone models could feature up to 10 percent more battery power if Apple and LG Chem are able to deploy a one-cell design for device's L-shaped battery, as opposed to the two-cell battery used in the iPhone X.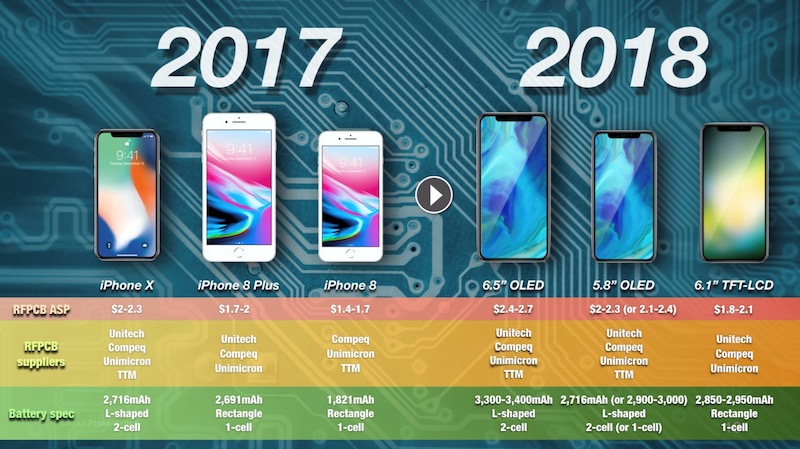 Kuo believe that the more space efficient two-cell design would allow Apple to boost battery capacity from 2716 mAh in the iPhone X to somewhere between 2900 and 3000 mAh for next year's 5.8-inch iPhone, that means we could see an increase of 10 percent come next year.
Two new 2H18 iPhone models could adopt L-shaped battery (6.5" & 5.8" OLED models), with capacity upgraded for all models. In order to extend battery life, we believe it is necessary to expand battery capacity because all three new 2H18 models will be equipped with TrueDepth Camera, which consumes more power. We think Apple (US) is developing a 1-cell L-shaped battery in collaboration with LGC (KR). If the new battery enters mass production on time, the 5.8" OLED iPhone model will come with a battery with larger capacity (2,900-3,000mAh with higher RFPCB ASP $2.1-2.4). For the 6.1" LCD model, we expect Apple to keep the rectangular battery design to keep a better cost structure, and we expect capacity could be larger than those of the iPhone 8 series.
Perhaps some observers were surprised that as they see a two-cell battery inside the iPhone X when it was opened up by iFixit just after its launch, but there are technical challenges involved in producing non-rectangular battery cells, challenges Apple was unable to overcome in time for the iPhone X.
In addition to two new OLED iPhones that Apple reportedly has planned for next year, there's also a 6.1-inch LCD model on the table. KGI says this device will likely retain the rectangular battery design as a cost saving mechanism, though it too can expect an increase in overall capacity. It also reportedly reverting to a metal back design which mean no support for wireless charging.