In a new
press release
today, Apple has announced a new commitment to contribute $350 billion to the US economy over the next five years. The news also includes the company's expectations to create thousands of new jobs and how its US operations will grow with a new campus.
Specifically, the company is on target to contribute $55 billion to the economy in 2018 and $350 billion over the course of the next five years. Apple's plans for the next five years are including to 'Growing Apple's US Operations', 'Investing in Apple's Domestic Suppliers and Manufacturing Partners', and 'Preparing Students for the App Economy'.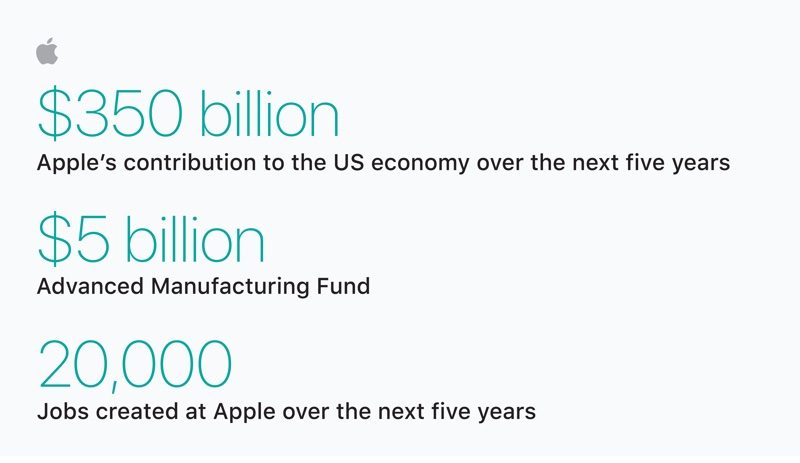 The Advanced Manufacturing Fund is designed to create jobs in the United States through investments in Apple suppliers. Apple has already invested $200 million in Corning, maker of Gorilla Glass, and $390 million in Finisar, who supplies a components found in iPhone X's True Depth camera. The tech-giant will increase its Advanced Manufacturing Fund from $1 billion to $5 billion.
In the meantime, the company also plans to repatriate roughly $245B of its overseas cash resulting in a reduced $38B tax bill (based on the one-time 15.5% rate). When they doing so, is likely to be the largest payment of this kind ever made. That tax payment, combined with its U.S. investments and planned capital expenditures, will account for $75 billion of its projected $350 billion contribution.
"Apple is a success story that could only have happened in America, and we are proud to build on our long history of support for the US economy," said Tim Cook, Apple's CEO. "We believe deeply in the power of American ingenuity, and we are focusing our investments in areas where we can have a direct impact on job creation and job preparedness. We have a deep sense of responsibility to give back to our country and the people who help make our success possible."
The Cupertino firm is expected to create 20,000 new jobs and spend $30 billion hiring new employees at its existing campus and opening a new US based campus, even though Apple Park is still nearing completion. Apple will be also investing over $10 billion for its centers across the United States.
Apple's final plan to bolster the economy is through education. The company plans to bring more educational opportunities to teachers and students through its ConnectED program, thought the press release doesn't provide specifics.