Time goes back to January 15th, 2008 – 10 years ago today – where Apple CEO Steve Jobs unveiling the MacBook Air, the world's thinnest notebook at the time, it gave us a glimpse into the future of Apple's plans and ambitions across all of their product lines.
The notebook only weighs 3 pound, of course, the thinness comes at a cost, a base model priced at $1,799, which includes a 1.6GHz Intel Core 2 Duo processor, 2GB of RAM, and an 80GB hard drive. A maxed out version was available for $3,098, with a little faster 1.8GHz processor and a 64GB solid-state drive.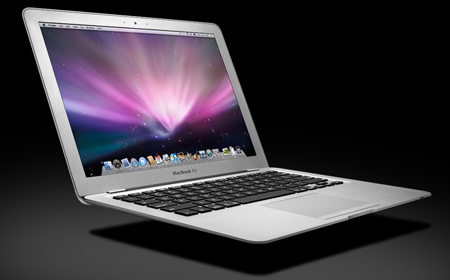 MacBook Air was the first Mac since the original iMac to ship without an internal CD/DVD drive. It was First to ditch a range of ports and connectivity options for a wireless future, first with a multi-touch trackpad, first to have the option for SSD storage, and first with a mercury-free display.
The MacBook Air paved the way of design for the past decade of Apple: a flip-down door on the right side of the machine provided access to only a single USB port, a headphone jack, and a micro-DVI port. And all these changes generated controversy, but ultimately set the course for its future.
Ten years later, although the MacBook Air still remains a product in Apple's lineup, but it likely only because it is a lower-cost option. Apple last time refreshed the laptop is in June of 2017 at WWDC, where it only give a minor speed bump last June. What's your thoughts on this?
Via
MacRumors
And
9to5Mac
, Image Credit
The Register