The latest data from CIRP shows that houses in the U.S. have installed 50 million smart speakers, including the Amazon Echo, Google Home, and HomePod. CIRP claims that HomePod's market share is around 6%, which means HomePod's sales in the United States are around 3 million, as of June 30th.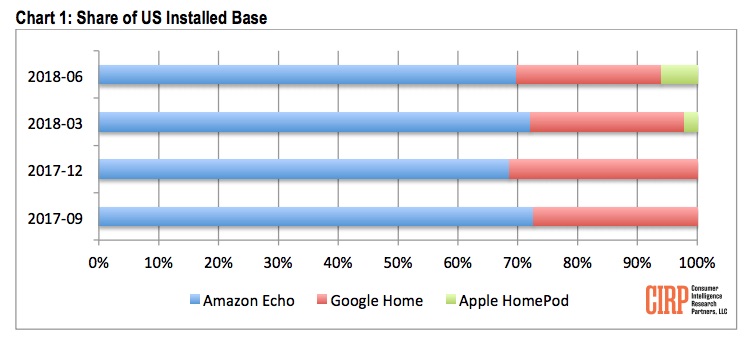 In contrast, the Amazon Echo has a 70% market share and Google Home has a market share of 24%. Of course, HomePod went on the market for a short time, and it was officially launched in February of this year, whereas Amazon Echo and Google Home were released 2-3 years ago
Apple introduced HomePod in the first quarter, and now has a small but meaningful share. It took a small share of the market from both Amazon and Google. Still, Amazon has a two-year head start, and Amazon and Google each have a low-priced device that accounts for at least half of unit sales, so it's not clear how much further Apple can establish itself in the market without a more competitive model.
In April of this year, reliable analyst Ming-Chi Kuo predicted that Apple is considering to launch a lower-priced HomePod. The price of the budget HomePod may be between $150 and $200, but it's unclear what features Apple will cut to reduce cost. Currently, the HomePod is priced at $349 in the US.